my story
and where big max came from
For over 18 years, Big Max's Studio has provided companies, professionals and the general public with affordable quality graphic designs and websites that command attention.
I work with your personal input to achieve a design that creates a final product that is as stunning as it is practical. I guarantee your design will be high-end and work for whatever application it was designed for.
I am a full service graphic design firm and my areas of expertise include: logo designs that represent the true essence of your business • unique (not out of the box) invitations and announcements • targeted branding and company identity packages • exclusive business cards, letterhead and envelopes • eye catching postcards • brochures • state-of-the–art wordpress websites.
Patricia Meyer
How did I come up with the name "Big Max's Studio"? Here's the short story.
Throughout the firm's life it's had a couple of different names and a couple of different partners. After the last partnership I decided it was time to change the name, again. Unfortunately, at this same time we had to put our big lovable lab, Max of 13 years down. A few weeks later with much excitement I came home and announced that I had found a new name for the firm. The only comment, "what to now?" I replied, "Big Max's Studio!" It was the first time I'd seen a smile in weeks and I knew I had picked the right name.
There is only one way to describe "Big Max" a typical lovable black lab who wanted nothing more than a few extra biscuits a day and at all times to be under your feet.
Big Max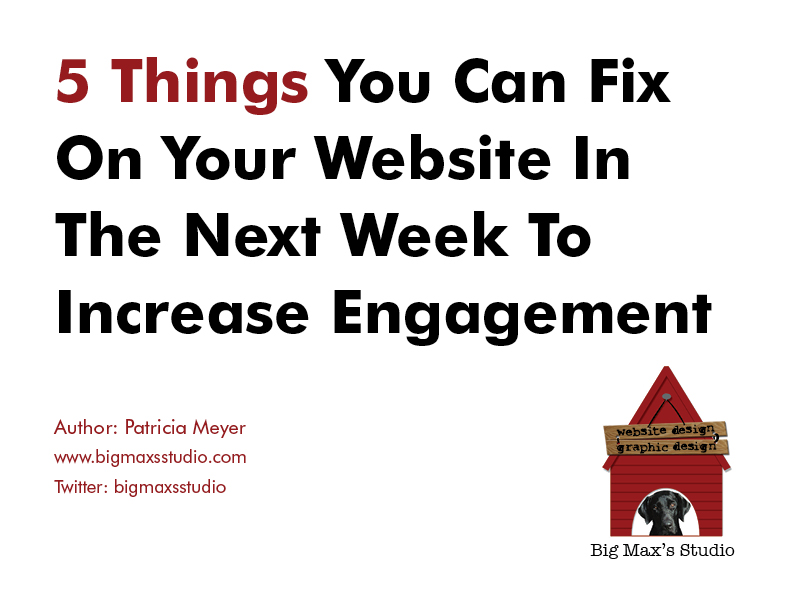 Download this free e-Book to increase engagement with these 5 simple steps
Would You Like To Work With Me
Click the button below and let's talk.